Since when do we eat crabs on the coast of Ecuador?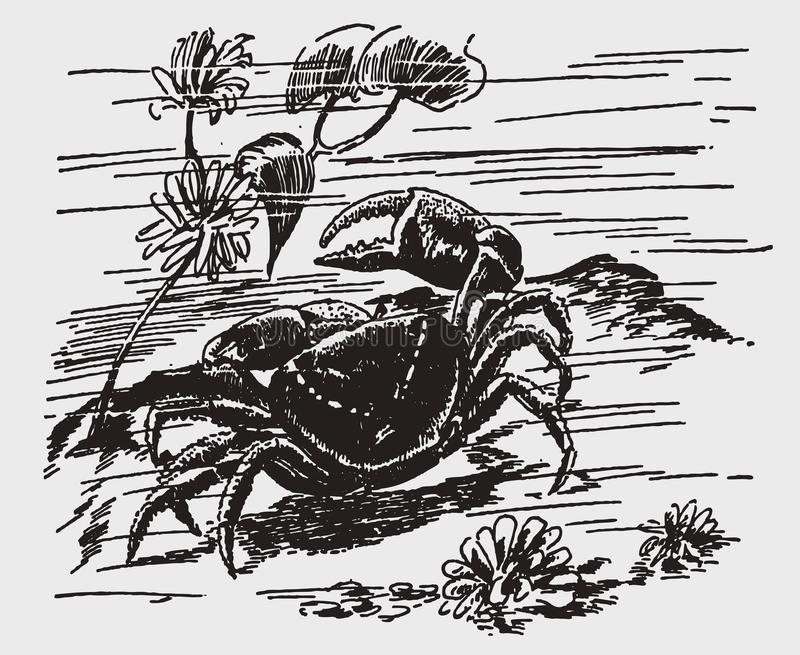 En Guayaquil es impensable no ser adicto a los cangrejos. Prácticamente se nace con el paladar afinado para disfrutar de los potentes placeres de una cangrejada. Pero qué tan anterior es esta tradición de comer cangrejos en esta ciudad y en el resto del litoral? En particular el cangrejo local, este que se saca del lodo de los esteros costeros, el cangrejo rojo (Ucides occidentalis).
Pues, según algunos importantes historiadores como Jenny Estrada o Rodolfo Perez Pimentel, esta tradición es anterior a la llegada de los españoles a nuestras tierras y no resulta extraño, pues resultaría más bien raro que algún ancestral aborigen no le incara el diente a este potaje de los manglares.
Se dice que se han encontrado restos del crustáceo en yacimientos arqueológicos locales y este es el único vestigio prehispánico, porque los nativos no escribían sus costumbres en libros. Por eso, el registro escrito más antiguo que pude encontrar (luego de buscar bastante) se remonta a 1748, escrito por el cronista y aventurero Antonio Ulloa.
Transcribiré el fragmento más relevante para hacer más legible el relato.
El Estero Salado le provee de cangrejos grandes y sabrosos (a la ciudad de Guayaquil), con los cuales hacen varias composiciones de platos muy agradables al gusto
Es decir, al menos desde inicios del siglo XVIII se tienen registros escritos de esta icónica costumbre gastronómica. Se preparaba de varias maneras pero siempre acompañado de una infaltable salsa de ají local.